Smart Tips from Our Smart Cat Family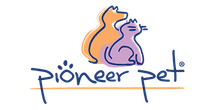 Paws Inn Pet Essentials is proud to carry Pioneer Pet in Waconia, Minnesota. In the late 1990's Betsy Lipscomb, a cat behaviorist, cat lover and founder of SmartCat® understood that people surrendered their cats to shelters because they didn't know how to change unwanted behaviors. Cat owners were unhappy with cats using furniture and carpets to do what came natural to them –scratching. Most thought de-clawing was the only answer, it is not! For Betsy, this was a call to action. She started Cats International, a free hotline to help people solve their cat behavior issues. For years Betsy fielded thousands of calls from desperate cat owners looking for solutions. Still on her mission today you can visit www.catsinternational.org to learn about humane solutions for cat behavioral problems.
Early on Betsy began gathering wooden fence posts from her farm in Wisconsin. She wrapped them in sisal rope and mounted them on sturdy wood bases. Her sole purpose of making these posts was to send them to pet parents who needed help with scratching behaviors. People were amazed to learn that the scratching post solved their problems. These posts became vastly popular and soon Betsy was making up to 50 a month by hand.
Cat Toys
Cat Nip
Peek-a-Prize Toy
Bootsie's Bunk Bed and Playroom
Peek-and-Play Toy Box
Eddie Eraser
Replacement Balls for Toy
Frank and Fifi Flatmouse
Rainbow Ralph
Come visit our pet supply store in Waconia, MN specializing in quality food, treats, and supplies for cats and dogs.