The Healthiest Pet Bakery in the U.S!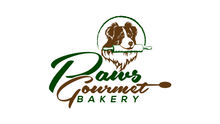 Paws Inn Pet Essentials is proud to carry Paws Gourmet Bakery in Waconia, Minnesota. Paws Gourmet Bakery is our very own private label treat bakery where we hand make a variety of healthy and fun baked treats, right here in Silverdale! You will find our decorated products in our bakery case and our packaged treats can be found by looking for our logo. All of our treats are corn, wheat, soy, and GMO free, made with love and only the highest quality human ingredients. Need a fresh baked custom cake for your pets next birthday? Order online or visit our bakery case in-store.
Dog Treats
A variety of whimsically decorated treats including:
- Birthday Cakes
- Party Packs
- Puppycakes
- Happy Birthday Bones
- Good Boy / Girl Bones
- Spoiled Bones
- Dog Tales
- Double Dips
Cinnamon Carob Bursts
Cinnamon Carob Training Treats
Grr-Nola Training Treats
Healthy Hearts
Pizza Bites
Pizza Training Treats
Pumpkin Oat Bones
Pumpkin Oat Training Treats
Come visit our pet supply store in Waconia, MN specializing in quality food, treats, and supplies for cats and dogs.